Dental Crowns in Vaughan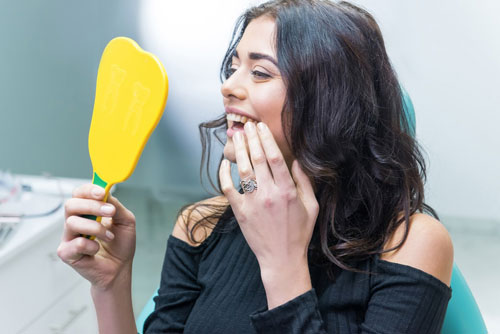 Dufferin Vaughan Dental Centre offers dental crowns to replace missing teeth and improve the appearance of your smile.
The dental crown procedure utilizes a ceramic material to cover a damaged tooth and restore it to its normal shape and size. Dental crowns are used for a number of reasons:
Protecting a weak or decaying tooth from further damage
Capping a broken or cracked tooth
Covering discoloured or misshapen teeth for esthetics
Supporting a tooth that has been largely filled or had a root canal
Assisting a dental bridge procedure
The Procedure
Typically, the dental crown procedure is completed in two stages. During the first stage, the dentist removes portions of your natural tooth's structure to accommodate the dental crown. Surrounding teeth may also be prepared in this way. An impression is made and sent to the lab, where your dental crown is created in about two weeks. A temporary crown will be in place between visits to ensure the most natural look and feel. When you return to the dentist's office, the temporary crown is removed and your new, custom dental crown is securely bonded in place.
Book an appointment at Dufferin Vaughan Dental Centre today to learn more about dental crowns and how they can benefit your oral health. We always welcome new patients from Vaughan, Richmond Hill, Toronto, Maple, Thornhill, Woodbridge, and adjoining communities.