Complete & Partial Dentures in Vaughan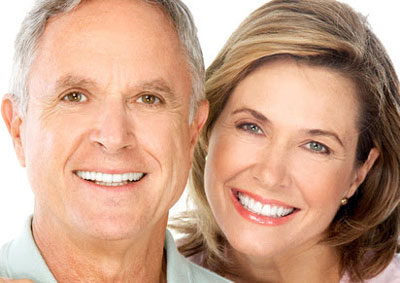 Missing teeth can cause a number of issues, like gum disease, shifting, and tooth decay. Partial or complete dentures are removable, affordable replacements for missing teeth that improve eating, speech function, or esthetics.
What are Dentures?
Dentures are custom-fitted, artificial replacements for missing teeth and the surrounding gum tissue. Constructed with either plastic prosthetic teeth or porcelain teeth, dentures are removable and are relatively affordable option for tooth replacement.
Our Vaughan dentists will first take a series of impressions of your jaw after tooth loss or removal. Next, wax denture models are constructed and tested to ensure optimal comfort and alignment. Finally, the denture is cast and ready for use. Ongoing adjustments can then be made if necessary.
Types of Dentures
Partial Dentures: These are made up of one or more teeth attached to a gum-coloured base and affixed to a metal framework. This frame can be inserted alongside your existing teeth, forming a bridge.
Complete Dentures: When most of your natural teeth are no longer present or must be removed, complete dentures must be created.
Book an appointment at Dufferin Vaughan Dental Centre today for a thorough examination to determine if dentures are right for you. We always welcome new patients from Vaughan, Richmond Hill, Toronto, Maple, Thornhill, Woodbridge, and adjoining communities.